Looking Two Ways in the Fog
Just as Sunday stew is best left to bubble on the back burner, so too do Loralee's comments reveal themselves best over time. For two weeks she's been asking us to be on the lookout, noticing symbols that may manifest in our daily lives. And when we notice, to ask ourselves what our creative unconscious might be trying to say. Living life as an artist, she says, these symbols might offer connection to the numinous aspect of ourselves, and provide a starting point for our creations.
This weekend I've had the pleasure of celebrating my sixtieth birthday for three whole days, beginning on Friday, the morning after our class. I woke with a full heart, feeling grateful for my Seeing Red sisters and replaying Loralee's idea that we, as a group, are great givers of mirroring. And together we hold space for the creative cultivation of symbolic feminine consciousness.
So I'd like to share a progression of images that unfolded for me over the last three days. This is process-work for me, not sure where it's leading, but I hope that by sharing some of my process, others may feel that they want to share their process-work too. For me, creativity IS IN the process, and too often not only is the 'soul vacuumed out of it,' but the process itself remains unacknowledged as well.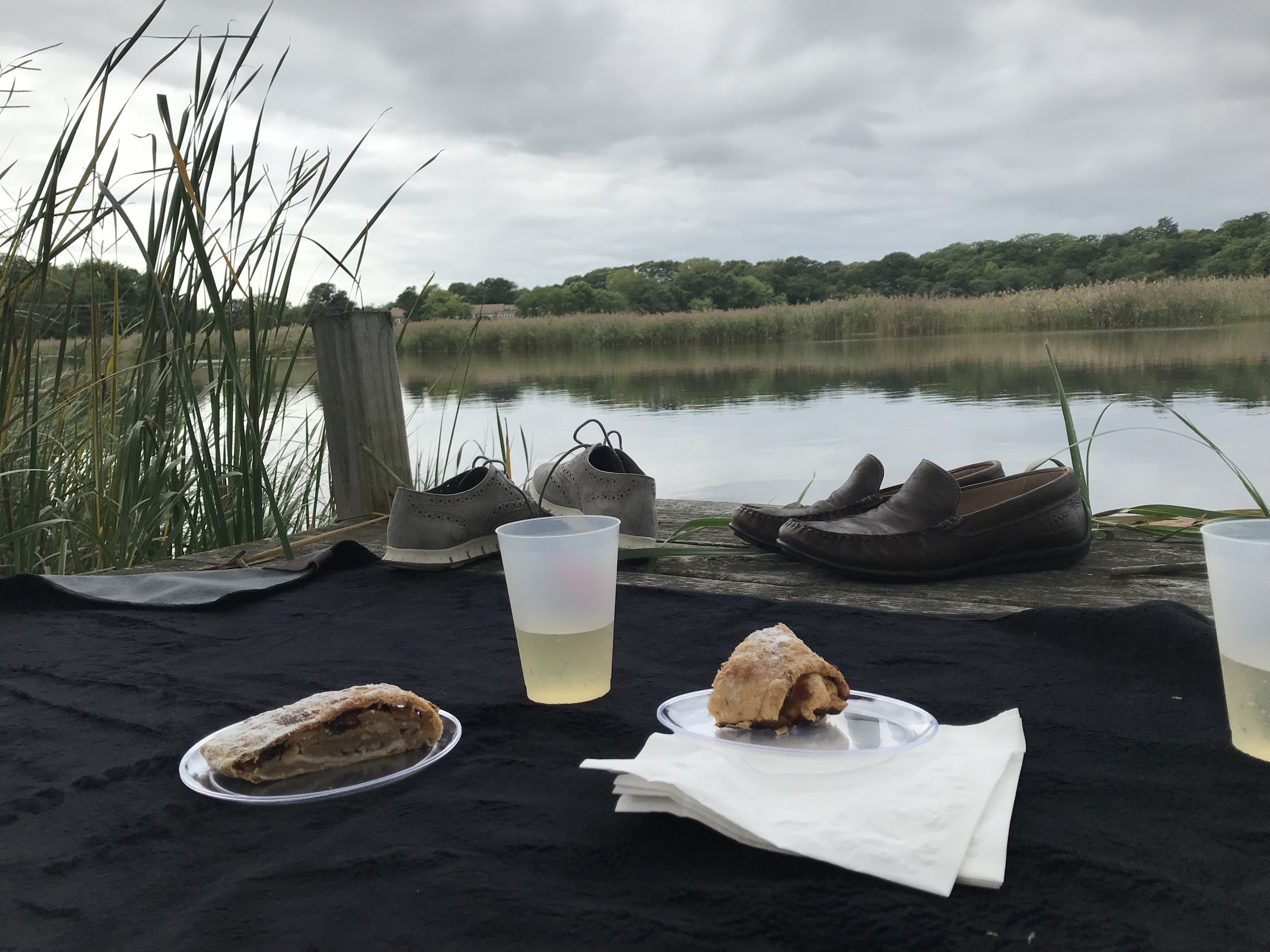 On Friday, my actual birthday, I was treated to a surprise picnic with my husband. Idyllic location, and the absence of life stressors felt simply divine. After days of thick, oppressive humidity, this image of my vista stayed with me.
"Strudel Picnic on the banks of the Lieutenent" by Christopher Wright
But that night in the wee hours I had a familiar and unpleasant dream. And although still frightening, this time was different. For the first time I didn't remain mute in my dream. Against all odds and past history, I barked out like a seal, two very large sounds in real life. So loud, in fact, that I woke my husband with my guttural soundings of "Stop It!" Never before, in over a decade, had I been able to speak in this dream.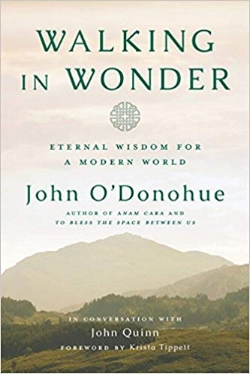 Then on Saturday, just before opening presents, I came across this image of John O'Donohue's new posthumous book, and shared it with our group. The soft misty cover art filled me with a sense of comfort and peace.
"Walking in Wonder" by John O'Donohue, release Nov '18
A few minutes later my 14-yr-old son offered an original framed photo of me as a birthday gift. He's an intuitive young man, often mercurial with his insight. He'd named it "Looking Two Ways in the Fog."
"Looking Two Ways in the Fog" by Jasper Wright
On Sunday morning at 5am I startled awake once again because of that same familiar and unpleasant dream. Yet once again, this time was different. This time I felt exhilarated because I had broken another long-standing cycle. No words were necessary this time, my dream didn't even progress to that point. This time in my sleep-state, some part of me was able to recognize that my visions weren't real. They were symbols, not life. They were the past, not the present. In life, I was safe and at peace. I rose and looked out the window to these images of rising fog on our marsh. The numinous quality of transcendence was everywhere.
I didn't know it that morning but during the previous night, my youngest brother had made a cross-country trip from Portland OR, to surprise me on my special birthday. I was even more loved than I realized. It wasn't until much later in the day, while celebrating again (with extended family this time), that I came to see there had been a pattern in the images that had captured my attention over the past few days. A pattern for healing - symbols, I dare say.
I couldn't have named it on my own but my prescient Hermes Child had named it for me. "Looking Two Ways in the Fog." Past and present, dream-state and awake. Was the fog really lifting, or was I rising… out of the fog?
So here I am, sixty-years-young, and welcoming my afternoon of life as 'a season of soulful creative emergence' indeed. Thank you Loralee, and all women of Seeing Red, for mirroring the light of self-reflection, so I could begin to distinguish my path to self.  With love.